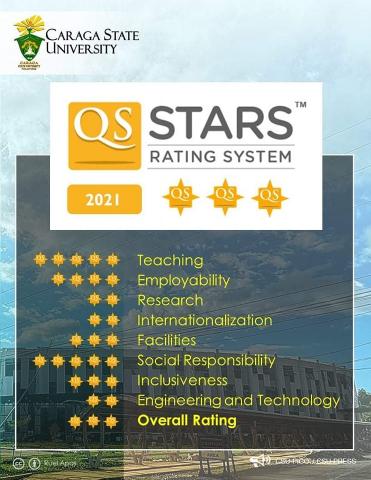 The Quacquarelli Symonds (QS) Stars Team, a London –based independent compiler of the QS World University Rankings since 2004 has granted 3 QS stars to Caraga State University.
The QS Intelligence Unit – QS's research and professional services division – provides universities across the world with bespoke comparative performance analysis according to metrics central to each institution's mission: teaching, research impact, reputational standing, student employability, and internationalization.
CSU has been rated through a range of performance indicators, in seven categories: Teaching, Employability, Research, Internationalization, Facilities, Social Responsibility, Inclusiveness, Engineering and Technology. CSU got 5 stars in teaching and social responsibility categories, 4 stars in employability, and three and two stars in other categories, leaving a room for the University to aspire for a more excellent performance.
The Commission on Higher Education (CHED) chose CSU with other select state universities as one of the grantees of the "Fostering World Class Philippines Universities Project." Dr. Anthony M. Penaso, CSU President expressed his gratitude to the Commission on Higher Education through his social media post. Dr. Penaso gave a special appreciation to CHED Chairman Prospero "Popoy" De Vera, Commissioner Perfecto "Pec" Alibin, and IAS Director, Atty. Lily Milla. He also congratulated all the University people, officials, faculty, staff, students, alumni, and commended OIGE Director Jayrold Arcede for leading the effort in the attainment of the coveted 3-Star QS grant with Vice President for Academic Affairs, Dr. Rolando N. Paluga also in the helm. PICO